Join us on Saturday, December 21st!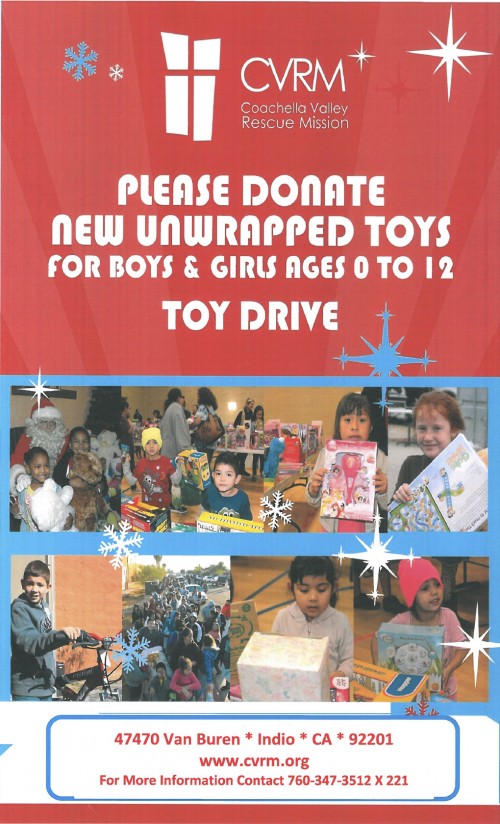 On Saturday, December 21, over 5000 children will arrive at the Coachella Valley Rescue Mission for our Annual Toy Giveaway, which starts at 7am.
This event will distribute about 15000 toys to the needy children in the valley, and will include a random giveaway of bicycles. Santa and Mrs. Claus have once again agreed to take time out of their busy holiday schedule to greet the children at the door. They will be assisted by Santa's elves, which will be busy handing out candy canes to the kids in line.
To make the Annual Toy Giveaway a success, CVRM needs new unwrapped toys for boys and girls from infant to pre-teen. Dolls, books, games, skateboards, sports equipment, balls, action figures, Legos, cars, trucks, and Barbies are some of the favorites.
CVRM invites you to participate in our event- it is a joyous, heartwarming, fun-filled experience to see the jubilation of the children choosing their toys.
Drop off your toys here: 47-470 Van Buren St. Indio, CA 92201.
Drop off location
If you feel called to volunteer your time for this event or any other day, donate a toy, or organize a drop box for your organization or club, please EMAIL or call Desire 'Tegge at 760-347-3512 ext. 221.